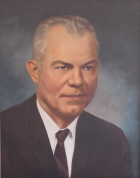 Murrow's Transfer began operations in 1941 transporting Trycycles, Pepsi Products and Furniture Springs
throughout High Point, Greensboro and Winston-Salem, North Carolina. W.C. Murrow, founder, was a
strong man with an amazing work ethic. W.C. was quoted in saying "I work while my competitors sleep".
W.C. was a highly respected man and built Murrow's Transfer on Intergrity, Pride and a can-do attitude.
Murrow's is family owned and operated and today we have 155 dedicated employees, a custom built
145,200 quare foot warehouse, 115 Drivers and 420 Trailers. We continue to take pride in offering our
customers the best experience possible and our trained staff are dedicated to providing 100% satisfaction.
We continue to grow and look forward to serving you.